Go back to news
Thunder Women 3rd and Men 6th at Final XC Race Before ACAC Championships
Posted on: Oct 17, 2016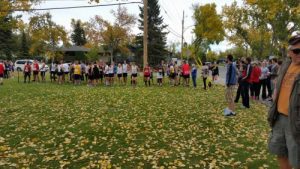 The Thunder Cross Country teams headed out to Camrose on Saturday to compete in the final race before the ACAC Championships.  Conditions were cold and snowy at the largest race of the season which saw the UofA and MacEwan Universities join all of the ACAC schools.
The ladies were missing both of their Co-captains due to illness but Elise Nawrocki and Baylee Frissell both had solid runs, finishing as the 6th and 8th ACAC runners across the line.  "Elise had a solid run today and Baylee was fighting the same illness that has been going around so her run was really good too, all things considered," stated Head Coach Matt Norminton.  Rookie Haley Dunwoodie had her best race of the season, finishing in 13th place while 3rd year runner Ana Zulic continued her return to fitness with a solid Top 20 performance to help the girls finish 3rd overall in ACAC competition behind Red Deer and Lethbridge.  Second year runner Bailey Troccolli-Hughes was next across the line for the ladies in 22nd while rookie Mienna Starosielski continued her strong season with a 26th place finish.  Rookie Lannie Houle finished in 39th.  "I honestly think we have 3 girls in the top 10 at the ACAC Championships this year," said Norminton.  "If Baylee or Elise can crack the Top 5 and Haley sneaks into the top 10 as well, we could very well surprise Lethbridge and Red Deer up in Grande Prairie.  But for now, I'm happy to head into the champs as the underdog".
The Thunder men were led by Co-captain Ian Lee who had another solid race, finishing in 11th place.  Third year runner Michael Quick finished in 19th place with rookie Keith Spruyt in 24th place.  Thunder Hockey team member Connor Reinson closed out the scoring for the men in 31st place to help the men finish 6th overall.  "I think the guys found it pretty tough out there today," said Norminton.  "Out of our top four, only Mike has ever done an XC season and to race in this amount of snow takes some racing experience.  Connor was a bit tired from playing hockey the night before, too. We'll bounce back at the ACAC Champs and do our best to compete for a team medal." Four more rookies also competed for the Thunder men with Brad Agnew in 43rd overall, Mo Abdullahi in 46th, Darien Khan in 48th and Jackson Murrell in 53rd place overall.
The top 7 ladies and men will now head up to Grande Prairie to compete at the ACAC Championships in Grande Prairie on October 29th and hopefully qualify for the CCAA Champs.