Go back to news
Thunder Men's Soccer Heading to the 2016 ACAC Championship
Posted on: Oct 24, 2016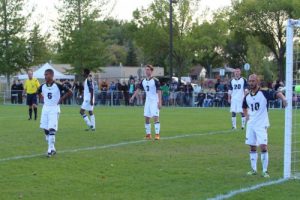 The Thunder Men ended Keyano's record setting winning streak 1-0 at Concordia Saturday. The 4th ranked CCAA side have enjoyed having all things their way since last season – until now. Oladeji Ademola made the goal on his own but the team – led by Man of the Match Israel Olufuwa – were the heroes coming through with a grinding defensive effort the champions could not overcome.
There would have been no point in this achievement by not turning up for business on Sunday at home to Augustana. The visitors clearly came to defend which suited the Thunder as they rolled to a comfortable 3-0 win to end league play with 7 wins and 3 losses. Ademola was on target again with a brace with Ahmed Abubaker sealing the deal. Ademola is the in-form player and earned Man of the Match honours.
The boys are flying a bit and are now off to the ACAC Championships to be hosted by Medicine Hat College. It will be the first post-season appearance for the Men's Soccer team in four years.  Go Thunder!