Go back to news
Thunder Men's Basketball Sweep Vikings in Season Opener
Posted on: Oct 17, 2016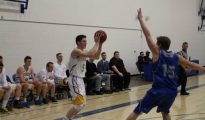 The very first CCAA regular season game in the entire country this year was played this past Thursday night as the Thunder hosted the Augustana Vikings. The Thunder would lead by 1 after the first quarter and by 11 at the half. The Vikings would match the Thunder in the 3rd and not allow the lead to grow but a few minutes into the 4th the Thunder would push the lead to as many as 25 and ride out the 84-69 win. Leader for the Thunder – Ryan McLaren with a career high 20 points and 8 rebounds. Ron Bacon notched 15 points and 10 rebounds along with 4 blocks. Mike Malin also added 15 points and 8 rebounds with Brett Jakubec contributing 13 points, 5 rebounds and 4 assists. Paul Smith-Profit came in with a solid contribution off the bench with 8 points and 4 rebounds. "(It is) always nice to open the season with a win, especially at home," said Head Coach Reagan Wood. "We had a nice team game, moved the ball well and made big defensive plays when we needed to. Augustana is a really nice up and coming team so we're happy to get this one."
The rematch would come Saturday night out in Camrose. The Thunder would again break on top 17-11 after the first but a slow, low scoring second frame would see the Vikings pull within 3 at the half. The Thunder would explode for 60 points in the second half and finish off the sweep of the Vikings with an 84-55 victory. Leaders for the Thunder – Brett Jakubec with a career high 27 points to go along with 9 rebounds, Ryan McLaren scored 14 points with 4 rebounds, Euriah Pemberton tallied 10 points and 7 rebounds, Mike Malin pitched in with 9 points and 6 rebounds and Julien McFadden had 4 points and 10 rebounds. "Augustana can be a tough place to win. They always have a loud crowd and they usually shoot the ball well at home. I was happy with our defensive effort. It allowed us to maintain our edge while we found our flow offensively. Our defense definitely carried us in this one." noted Coach Wood after the win.
Next up for the Thunder is a home and home with the defending ACAC and CCAA National Champion NAIT Ooks. Tip off times are Friday at 8 PM at the RKAC and Saturday at 8 PM at the NAIT Gym.