Go back to news
Thunder MBB Sweep Eagles, Slide into Top Spot in the ACAC North
Posted on: Nov 14, 2016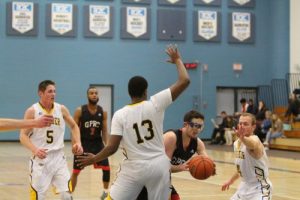 It was a tough but rewarding weekend for the Thunder Men's Basketball squad as they held off a ferocious King's Eagles team on back-to-back nights, moving their record to 8-2 in conference play; good enough for top spot in the ACAC North.
An ugly game on Friday night at the RKAC would see the Thunder lead 11-8 after the first and 33-26 at the half.  The Thunder would find a way to go up 24 in the fourth frame and hold off the Eagles for the 74-63 win. "(it was) our ugliest game of the year for sure," said Coach Reagan Wood after the game. "We found a way to win but we have to be a lot better in many areas.  King's did a great job with their pressure and forced mistakes on our end.  Good to win on a night like this though." Leaders for the Thunder – Ryan McLaren with a solid night registering 15 points, 9 rebounds, 5 assists and 5 steals. Mike Malin had a nice outside touch knocking down 3 threes on his way to 13 points.  Brett Jakubec and Kwame Kang pitched in from the guard spots with 12 apiece.  Ron Bacon notched a double-double with 10 points and 10 rebounds.
Night two at King's, the Eagles would take a 42-37 lead into the half but an unbelievable 3rd stanza from the Thunder – wherein they shot 100% from the floor (12/12, 4/4 from 3) and 8/9 at the charity stripe – would vault the Thunder up 12 heading into the 4th. Concordia had to fend off a late push from the home side but left the floor with a 90-80 win. "We finally solved their pressure in the second half and were able to get a lot of quality shots that we converted," noted Coach Wood. "We have emphasized ball security and shot selection all season. You never expect to shoot that well for an entire half (80% in the second) but it is the fruit of some hard work, combined with talent.  We need to continue to work hard all week heading into a huge weekend with a very talented and skilled Lakeland team." Leaders for the Thunder – a massive night from Ron Bacon – 33 points and 11 rebounds. Ryan McLaren also tallied a double-double with 15 points and 10 rebounds while adding 5 assists. Mike Malin kept his hand hot from 3 hitting another 4, tallying 14 points.  Bevan Purnell had his best game of the season with 10 points, 3 rebounds and 3 assists.
As mentioned, the Lakeland Rustlers are next up for the Thunder. In fact their next 4 league games are against the Rustlers, matchups that will be key in the ACAC North playoff picture.