Go back to news
Thunder Looking for New Mascot as Blue Set to Retire
Posted on: Mar 4, 2020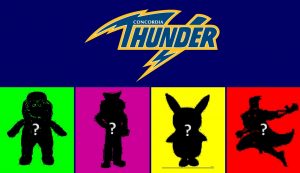 EDMONTON, AB – The end of an era is near, as beloved Thunder mascot Blue the Bulldog is set to retire after the 2019-20 season.
Blue has been a staple in the Thunder Department of Athletics & Recreation for the past 15 years as the mascot and entertainer extraordinaire. Fans have come to adore his classic dance moves and game day antics, which will surely be missed in the Ralph King Athletic Centre next fall.
When asked what he will do with his new found spare time in retirement, Blue said that he has plans for "taking some long naps in my favourite dog bed", while chasing around the resident felines of the Highlands neighbourhood for fun, and "to keep them on their paws".
Reflecting on the contributions that Blue has made to the Concordia University of Edmonton community, Joel Mrak, Director of Athletics & Recreation, stated "Blue has been an outstanding ambassador of Thunder Athletics and has embodied the values of our campus with his contagious spirit and enthusiasm. He will definitely be missed around the Ralph King Athletic Centre, but will remain a distinguished member of the Thunder family in retirement.".
Fans that are sad about not being able to see Blue in the gym or in the arena next year can rest easy – the department has big plans to find Blue's replacement, starting immediately with collecting feedback from the CUE community on a new mascot. While the Thunder will remain the official logo and the brand of the Department of Athletics & Recreation, the new mascot, including the character and name, will be open for suggestions from the campus community.
The department is asking students, staff, faculty, and fans, for their help in the search for the new mascot. Thunder Athletics is encouraging students, staff, faculty, and fans to visit https://tinyurl.com/vghhsju to share their ideas and inspiration for the new mascot. The survey will be open until Friday March 20, 2020 at 11:00 PM. Submissions that are creative, family-friendly and tasteful will be compiled and considered. The committee will then whittle down the list of finalists for an online fan vote in the spring that will help determine the new character and name. Upon conclusion of the survey, three lucky fans will be randomly drawn from all participants to receive a Thunder prize package.
(Blue the Bulldog Photo Credit: Robert Antoniuk)