Go back to news
Thunder Hockey Get a Rough Ride from MacEwan
Posted on: Jan 9, 2017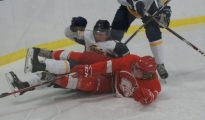 This weekend the Thunder kicked off the 2017 portion of their season against the MacEwan Griffins. Against a very difficult team, the Thunder had some moments of strong play but could not maintain the consistency required to beat a strong team like MacEwan. Friday night at home the Thunder had a strong first period but could not convert on multiple scoring chances and the game remained scoreless until half way through the second period. The Thunder were unable to maintain their strong play and eventually dropped a disappointing 6 to 0 decision to the Griffins.
Saturday night at the Downtown Community Arena, the Thunder got off to a slow start and faced a MacEwan onslaught that resulted in being down 3 – 0 after the first period. The Thunder penalty kill passed a big test in the second period killing off 4 minor penalties including a 5 on 3. Phil Dillon finally got the Thunder on the board in the third period but the Griffins took the game with a 6 to 1 win.
This weekend the Thunder have an important match up with the Portage Voyageurs. The two teams come into the weekend tied for the last playoff spot in the ACAC and the Thunder are looking to secure their chances with a pair of strong outings. The home game goes Saturday night (14th) at Clareview Arena with the puck dropping at 8:15 PM.