Go back to news
Thunder Golf Team Qualifies for the ACAC Championship
Posted on: Sep 26, 2016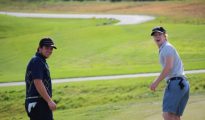 The Thunder Golf team competed in – and also played host to – the ACAC North Regional tournament this past weekend at Raven Crest Golf Course in Edmonton. On the men's side, the team got off to a very hot start in Round 1 on Saturday. After 9 holes of Round 1, the Thunder were actually leading the entire tournament, with Connor Beeston at +1, Connor Dobberthien at +2, Dylan Brown at +3 and Michael Lastiwka at +4. Unfortunately it did not continue for the Thunder. The team had a rough back nine but still were only 2 shots out of 2nd place at the end of the day. The Golf team's lone female player Kassidy Turcotte was in 8th place at the end of Round 1.
On Day 2, the Thunder Men struggled again but finished in 5th place ahead of Olds and Portage. Connor Beeston and Michael Lastiwka led the Thunder finishing in 17th and 20th place, respectively. Dylan Brown and Connor Dobberthien rounded out the team with 26th and 29th place finishes. On the lady's side, Kassidy Turcotte played much better and more relaxed on the Sunday. She had the 4th best score on the Sunday shooting 85 and finished in 7th place overall.
The Thunder look to take the positives from this weekend and improve for the ACAC Championships that are being held in Lac La Biche next weekend. Great Job Thunder!