Go back to news
Thunder Curling Teams 'Rock' the Fall Regional
Posted on: Nov 28, 2016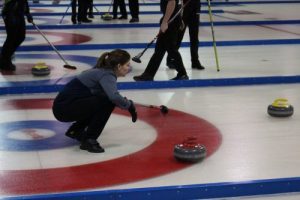 This past weekend, the Concordia Curling teams headed down to Red Deer for a full (bon) spiel of competition at the ACAC Fall Regional. Concordia's team consists of 4 returning players and 4 new players. The returning players are: Adrienne Maschmeyer, Jessica Panchyshyn, Brooke Gelasco and Melissa Palsitt. The newest additions to the Thunder 'clan' are: Veronica Maschmeyer, Madysan Theroux, Evan Van Amsterdam and Tyler Van Amsterdam. With their combination of skill and experience, these athletes were able to triumph together in their first event of the season.
The Concordia Mixed Curling team (consisting of Evan Van Amsterdam, Brooke Gelasco, Tyler Van Amsterdam and Melissa Palsitt) came out with a bang on Friday as they dominated their first two games against MacEwan University and Portage College. After their first day at the event the Mixed team was feeling good. With the prospect of a very long day ahead of them, the Thunder came to the rink on Saturday morning with a solid resolve to continue their winning ways. Sadly, the Thunder couldn't strike in the early morning against Olds College and later in the afternoon against Lakeland College. After a good meal and some time to recuperate, the Saturday evening draw saw the Mixed squad defeat Red Deer College to end the day with a 3-2 record. They woke up ready to go Sunday morning and continued their winning record against UofA Augustana and NAIT, finishing the weekend with a 5-2 record. Coach Dylan Theroux had this to say: "The athletes we have here are very skilled. They worked hard this weekend, playing 7 games in 2 and a half days. They worked hard in practice and it sure showed with a 5-2 record to place 3rd overall so far." Coach Theroux went on to comment on how excited he is to see them continue to compete at the ACAC Winter Regional on January 27th to the 29th.
The Concordia Thunder Women's Curling team consists of Veronica Maschmeyer, Adrienne Maschmeyer, Jessica Panchyshyn and Madysan Theroux. The Women's schedule was a little more relaxed (than that of the Mixed team) with a 5-game weekend, but they came prepared to play all the same.  The Women's Team started their weekend competition 3-0 defeating Lakeland College, MacEwan University and Red Deer College over Friday and Saturday. The Women's team struck fear in their opponents, being the only undefeated team going into the Sunday schedule. Unfortunately, the Thunder Women stumbled against NAIT in the Sunday morning draw. After experiencing their first loss of the weekend, the Thunder shook off their loss and were able to beat UofA Augustana to finish off their weekend. With that final draw victory, the Thunder Women's team finished up in 1st place in the standings. Coach Theroux had this to say about the performance of his Women's squad: "This team has a lot of experience and skill on it. Both teams are very young but they don't show it when they are performing on the ice. The girls play a smart and controlled game and with that they have won 4 of their 5 games this weekend. They have proved that they are a danger to play against and a lot of the other schools can see it." He also went on to comment about the cameraderie within both teams. "They have lots of laughs and lots of fun while competing. The key to our success is the chemistry that the teams have. Their communication with one another is at a competitive level. On and off the ice they get along and can discuss how they are going to win each and every event. They have created friendships that I believe will help in winning ourselves provincial and national titles."
The Thunder Curling teams will continue to practice and compete for their respective club teams over the Christmas period and will both be ready to represent Concordia again at the ACAC Winter Regional which will be hosted by NAIT at the Avonair Club from January 27th to the 29th.