Go back to news
Thunder Curlers Claim CCAA 2018-19 National Title
Posted on: Mar 22, 2019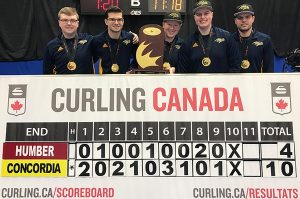 FREDERICTON, NB – MARCH 20, 2019
After a long week of competition against the nations top curlers at the 2018-19 CCAA Curling Canada National Championships in Fredericton, NB, the Concordia Thunder are your men's CCAA curling champions!
Coming off of a high from the ACAC conference championships, the Thunder continued their dominant play at the national level finishing the round robin tied with the Fanshawe Falcons with 6-1 record on top of the leaderboard.
In the semifinals, the Thunder were paired up with no other than their conference rival NAIT Ooks who finished third in the round robin with 5-2 record. After beating the Ooks in their first meeting of the tournament, the Thunder once again were able to display excellence when it mattered most taking down the Ooks 6-3 to advance to the gold medal game.
The Humber Hawks who finished their round robin 4-3, managed to upset the Fanshawe Falcons 7-5 in the semifinal setting a date with the Thunder in the finals. In the gold medal game those strikes came early and often with Concordia jumping out to an 8-2 lead on the Hawks after six ends. The Thunder scored doubles in the first and third ends and three points in the sixth. From there they settled in and did not allow the Hawks to get any momentum. Humber put up a fight, scoring two in the eighth, but it was too little too late, and Concordia locked down 10-4 win and their first ever men's curling national championship.
Concordia curled 80% as a team with Cody Holowaychuk (90%) and Evan Van Amsterdam (89%) tops on the squad. Despite the loss Humber curled an impressive 89% as a team in which Benjamin Hughes was almost flawless at 96% and Matthew Garner curled a strong 89%.
Skip Evan van Amsterdam (4th year, BMgt) was recognized as a 2nd Team Championship All-Star, while Head Coach Taina Smiley received the Curling Canada Coaching Award.
This was the 10th CCAA National Championship in CUE athletics history, and the first national championship for the men's curling team.