Go back to news
Thunder Cross Country Teams Earn Matching 3rd Place Finishes
Posted on: Sep 19, 2016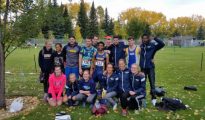 Both the Thunder Ladies and Men's teams took 3rd place at the 2nd ACAC Grand Prix hosted by SAIT in Calgary on Saturday. Elise Nawrocki ran her fastest time ever over 5km to lead the ladies as the 5th place ACAC runner across the line. Rachael Smillie was the next Thunder lady across the line in 8th place while Baylee Frissell also ran a personal best to finish right behind her Co-captain in 9th place. Rookie Haley Dunwoodie completed the scoring for the women in 11th place, also running a personal best followed closely by 2nd year runner Bailey Troccoli-Hughes in 12th. Co-captain Shelby Edgar finished in 17th while rookie Mienna Starosielski finished in 21st, also running a new personal best. Third year runner Anna Zulic opened her season in 22nd place. As a team, the Thunder Women ended up in 3rd place, only 8 points behind first place Lethbridge and just 4 points back of 2nd place Red Deer. "The women ran very well today," said Head Coach Matt Norminton. "Four of the ladies ran new personal best times and we put 6 ladies in the top 20 today. That's a great 2nd race of the season."
The Thunder Men were led by their Co-captains Ian Lee and Michael Quick, who finished in 10th and 15th place, respectively. "Ian had a great run. He moved through the field really well today," said Norminton. Rookies Keith Spruyt and Connor Reinson finished in 16th and 17th, respectively, both running new personal best times for the 8k distance. Rookie Mohammed Abdullahi also ran a new personal best time to finish in 27th place overall to be the 5th Thunder runner across the line while 4 other rookies, Nils Jansen, Darien Khan, Brad Agnew and Jackson Murrell all ran new personal best times to finish in 34th, 35th, 38th and 40th places, respectively. The men finished in 3rd place overall as a team behind SAIT and Lethbridge but beat Red Deer who got the better of the Thunder Men the week before at the season opener. "For the guys to lose all 7 of our runners from last year's team and be contending as a top 3 team this season is really impressive," enthused Norminton.
The Thunder teams will take a week off before heading up to Grande Prairie to check out the ACAC Championship course on October 1st.