Go back to news
Thunder Cross Country Runners Compete on the National Stage
Posted on: Nov 10, 2014
For the first time in 4 years, 4th year Thunder Cross Country Runner Marriya Jenkins had some teammates join her at the CCAA XC Champs. Jenkins made her 4th straight appearance at the CCAA Championships on Saturday in Calgary after picking up her 3rd individual medal at the ACAC Championships 2 weeks ago in Fort McMurray. But this time Jenkins was joined by the Thunder Men's team – for the first time in Concordia history – who had picked up the team Gold Medal at the ACAC Championships.
Jenkins, who finished 6th in 2011 (Kamloops), 2nd in 2012 (Montreal) and 3rd in 2013 (Toronto) was up first and looked great off the start, moving comfortably into 4th place and looked strong as she moved through the first 3km. However just after the start of the final lap, Jenkins found herself struggling to keep her legs moving and from that point on, it was an ongoing struggle for her to get to the finish line. "As the true champ she is, Marriya found a way to finish, even though it would have been a lot easier for her to stop out there," said Head Coach Matt Norminton. "I'm really proud of her for finishing out there but I know it's not what she was hoping for today." Jenkins finished in 24th spot overall. "She'll be back," said Assistant Coach Tom Fleming. "Marriya is a fighter. We'll figure out what's happening and help her get through this."
The men were up next and as he has done in all but one race this season, Kirk Sundt lead the way, finishing in 15th place overall, his highest ever finish at the CCAA Championships. Sundt's previous highest ever position was 19th while competing for MacEwan. "Man did Kirk look great out there," said Fleming. "He'll be top 10 next year." Next across the line for the men was rookie Michael Quick, who finished in 49th position. Norminton had this to say about Quick: "Quickie had a solid run out there today. He'll be a top 20 guy next year, the first National Championship is always a bit tough but he ran well today." Third year runner and Co-captain Ben Thomas ran to Norminton's expectation, and crossed the line in 67th. This was also Thomas' first trip to the CCAA Championships. The 4th scorer for the Thunder was SAIT transfer Kenton Sportak, who finished 15th at the CCAA XC Champs last year. Sportak was looking good through 4km but hyper extended his already injured knee in a hole on the course but still managed to limp home in 100th place. 5th year soccer player and runner Cody Hogberg finished in 105th place. "Neither Kenton nor Cody had the runs they would have wanted today but I'm extremely thankful and proud of both of them for finishing. If nothing else, we showed everyone in the CCAA today that we aren't quitters. We'll be back next year and we'll contend for a team medal," vowed Norminton. The men finished the day in 14th place, which was about Norminton's expectation after losing Co-captain Kevin Chambers to injury after the men won the ACAC Championships. "With a healthy Kevin, we could have been top 5 today. That was where Lethbridge finished and we beat them (at the ACAC Championship)," said Norminton. "With a healthy Sportak, we could have challenged for the team win."
Most of the Thunder runners will now take a well-earned break before getting ready for the indoor season. The men will be looking to improve on their 2nd place finish at last year's ACAC Indoor Championships while the ladies will be looking to improve on their 4th place finish. If you are interested in competing indoors for the Thunder, get in touch with Coach Matt.
WELL DONE, THUNDER!!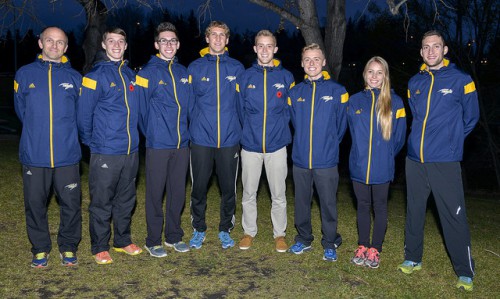 Photo Courtesy of SAIT Athletics