Go back to news
Thunder Badminton Bring Home National Bronze Medal
Posted on: Mar 7, 2016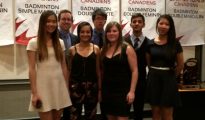 The Thunder Badminton team once again had some successful results at the 2016 CCAA National Badminton Championships this past week, hosted by Vancouver Island University in in Nanaimo, BC. The Women's Doubles team of Rachael Smillie and Takeisha Wang went 3-2 in the round robin. To open tournament play, they defeated a PACWEST team from Langara 21-7, 21-14. Their second win came from defeating a team from Atlantic (Mount Allison) 21-5, 21-5. In the round robin they also defeated a team from Ontario (George Brown) 21-18, 21-10. Their only two loses were at the hands of the powerhouse duo from NAIT (and eventual National Champions) 21-16, 21-11 and from a team from Ontario (Seneca) 21-14, 21-14. This put them in 3rd place after the round robin and a rematch against the girls from Seneca.
In the semi-finals, Takeisha and Rachael went into the match with a different game plan than the round robin. They knew they had to play better and change up a few things in order to defeat the Ontario team. Takeisha and Rachael ended up losing a nail biter 21-17, 16-21 and 21-18 which put them in the Bronze Medal match. That medal match was against the team from Langara, however it was much tougher this time around as the Langara girls played very well. Rachael and Takeisha were able to hold on with a win in 3 games, 21-17, 19-21 and 21-18 to capture the Bronze Medal. "This was Takeisha Wang's first trip to Nationals as a first year athlete at Concordia and ACAC Female Player of the year, so a Bronze is not a bad start to her career," enthused Head Coach Kevin MacAlpine. "Rachael claimed a Silver Medal last year at Nationals in Women's Singles and with a Bronze Medal this year, she is looking to get the Gold next year as she rounds out her degree at Concordia."
In other action, the Thunder had 4th year player Lindsay Ross claim a 5th place in Women's Singles defeating a girl from Atlantic (Kings College) in her last match 21-13, 21-17. "That is the 2nd year in a row that Lindsay has claimed 5th place at Nationals in Women's Singles, which is an incredible accomplishment."
First year players Dshant Sharma and Calvin Siu had a great experience this past weekend but definitely have a lot of room to improve and get better and this experience will hopefully motivate them to work harder and elevate their game. "The improvement that this team has shown in the last few weeks and even just at the Championship itself was truly amazing. They lost their last match to a team from Atlantic (Mount Allison) 18-21, 21-15, 21-10 which put them in 6th place."
Overall Kevin MacAlpine and Assistant Coach Samantha Wong were very proud of the entire team and look forward to working hard and seeing more improvement next year! Well done Thunder!