Go back to news
The United Nations HeForShe Movement is coming to CUE!
Posted on: Sep 11, 2019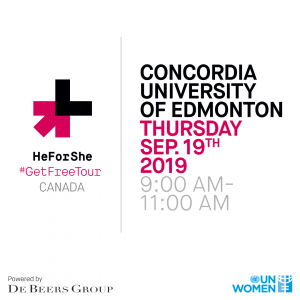 Concordia University of Edmonton will be the first Alberta stop in the tour, which will be travelling from Toronto to Vancouver next week. The #GetFree University Tour, sponsored by De Beers, is designed to engage students and university communities for the advancement of gender equality.
Our event will kick off (quite literally!) with CUE's Thunder Womens' Soccer team and FC Edmonton, at a friendly practice at 9am. Cheer them on, sign up for the HeForShe movement, and receive great HeForShe giveaways!
Then join us for refreshments and a panel discussion aimed at considering allyship and how we can all work together to secure a world with gender equity. There'll be a dynamic group of speakers and great panel discussion.
Speakers and panelists will include:
Pamela Ellemers – Manager of Mineral Resource Management, De Beers Group
Hannah Ludlage – Student, Vice-President, Student Life, Concordia Students' Association
Dr. Ha Tran – Assistant Professor, Department of Mathematical and Physical Sciences, Faculty of Science
Dr. Barb van Ingen – CUE Vice-President, Student Life & Learning
Edward Wageni – United Nations Global HeForShe Initiative Programme Manager
Plus a special guest!
Come and show your support:
FC Edmonton & Thunder Women's Soccer practice, and HeForShe Rally:
9:00am – 9:30am – Soccer Field
#GetFreeTour event:
9:30am – 11:00am – Tegler
Thanks in advance to FC Edmonton for joining us for this great event.