Go back to news
The Unconventional Path to Extended Reality (XR)
Posted on: Feb 22, 2021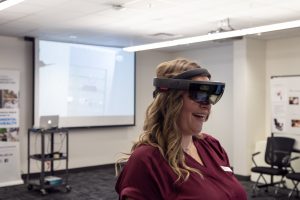 IT Seminar Series
The Faculty of Science and the BMO-Centre for Innovation and Applied Research are pleased to present The Unconventional Path to XR.
Join us!
When: Friday, February 26, 2021
Time: 3:00 pm (MT)
Where: Google Meet
The Unconventional Path to XR
There is rarely one direct path to any goal, especially with the modern-day democratization of IT skills available via the self-less open-source community. To be here now, Nathanial Maeda paved his way through mechanical engineering, academia, and teaching to land in the rapidly expanding field of XR. While weaving through various fields, he realized that soft skills and diverse perspectives are as important as technical capabilities, especially the ability to collaborate. As a future with XR and AI stretching into all domains of our lives becomes clearer, the skill of collaboration is the key to cohesively bring these varied technologies together.
About the Speaker
Nathanial Maeda is a Postdoctoral Fellow at the University of Alberta and Director of the Cognitive Projections program that develops interdisciplinary cutting-edge AI/VR applications for education and healthcare, in addition to CTO for Click&Push that implements technology for improving accessibility of our public spaces. He is also an experienced Sessional Instructor with a demonstrated history of working in the higher education industry.
Nathanial acquired his PhD in Mechanical Engineering at the University of Alberta developing a real-time simulation of the lumbar spine for integration in various clinical scenarios. Skilled in AI/VR development, Finite Element Analysis (FEA), Management, Project Management, and Matlab. Strong engineering and education professional with a BSc focused in Mechanical Engineering, Biomedical Option from the University of Alberta.
About IT Seminar Speaker Series:
The speaker series aims to introduce CUE students and other interested individuals to emerging topics in IT, professional issues and responsibilities, employability skills, and careers in IT-related areas.
The seminars are held on the last Friday of every month from 3:00 pm – 4:00 pm.
Contact
For questions about this speaker series, please email:
Dr. Rossitza Marinova, PhD, Professor, Chair Mathematical and Physical Sciences at rossitza.marinova@concordia.ab.ca; or
Dr. Isha Katyal, Director, Innovation and Industry at isha.katyal@concordia.ab.ca.