Go back to news
"The Soul of Society": Edmonton couple endow student education at CUE
Posted on: Oct 24, 2022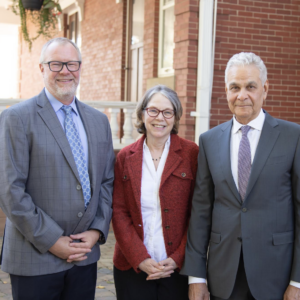 Throughout their lives, Mak and Joyce Hakim have cherished the value of a good education. This fall they continued to help others achieve their own educational dreams through a most generous endowment of $100,000 to Concordia University of Edmonton.
"Education should be a right and not a privilege," says Mak. "It's the soul of society."
Joyce agrees, saying that education is a catalyst for life and society. Many young people who might not otherwise have had the opportunity to begin or continue their post-secondary education are about to benefit from these munificent words and actions.
For CUE President Tim Loreman, the Hakims' gift will be welcomed by those who most need it:
"There are too many young people who choose to forego a university education simply because they cannot afford it," says Loreman. "A university education is a ticket to a better life. I am deeply grateful to the Hakims for the establishment of this generous endowment."
Friends and benefactors of Concordia since 2005, the Hakims believe in giving back to the community. For many years they have been supporting students with annual Concordia scholarships in Science and in the Performing Arts.
As an electrical engineer who for several years ran his own consulting company, Sinai Engineering, Mak understands the importance of science and technology in today's world. With her background and extensive work in accounting for mortgage businesses and the government, Joyce too realizes the value of these disciplines.
But both Mak and Joyce also appreciate music and the other fine arts, which they consider to be complementary to the sciences, and essential to society. And thanks to their endowment, students across CUE's faculties will now have even greater opportunities to contribute beneficially to the world around them. 
Mak was born and raised in Alexandria, Egypt. Although he "grew up without too much," he will never forget the value of his government-supported education at the University of Alexandria. His education and his work as a teaching assistant enabled him to achieve a good life and to help others along the way.
He moved to Canada in 1971 and by 1973 had earned his Masters of Science in Electrical Engineering from the University of Calgary. He then worked with companies in the energy industry, including Northern Canada Power Commission, where he met his future wife. Joyce and Mak were married in 1977, making Edmonton their home.
Soon after that, Mak established Sinai Engineering. After several years of successful consulting, he sold his company in 2009. 
After their retirements, Mak and Joyce continued to look for ways of helping their community. Recalling how much they had enjoyed their first Concordia fall Masked Gala in 2005 and the people they met there, they saw Concordia as a good candidate for their support. 
Later they began supporting Concordia's students through scholarships. The Hakims particularly appreciate the kind of education offered by Concordia.
As a small university that has just celebrated its centenary, it continues to embody a strong sense of community and mutual support, which they greatly value.
Indeed, the Hakims were introduced to Concordia through one of Mak's close friends, alumnus Bart West, who as a mature student earned his Concordia BA with high distinction.
Opportunities like this are always present at Concordia, for learning, connecting, and growing. The Hakims have since established strong and productive relationships with many Concordians. They are not just donors; they are friends. 
The Hakims are aware that not every potential student these days has an opportunity for a good post-secondary education.
"It's hard to see students stymied by a lack of financial assistance," says Mak.
He and Joyce have helped to supply that assistance for many grateful students over the years, and are looking forward to doing so for many years to come.
President Loreman is deeply appreciative of the Hakims' endowment: "This gift is an investment in talented youth," he says, "creating new opportunities that will have a lifelong impact on CUE students, both now and into the future."