Go back to news
The Rising Moon Silent Auction
Posted on: Feb 7, 2020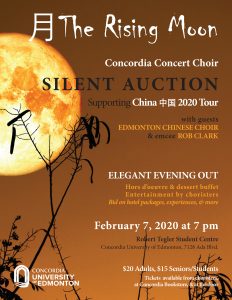 YOU ARE INVITED to attend the
Concert Choir's February 7 Chinese New Year-themed silent auction
,
The Rising Moon
, supporting their upcoming tour to China–now postponed to 2021 due to the coronavirus. Students remain very excited for this trip, and are hard at work making this a memorable, exciting, and enjoyable evening out,
so we hope you can join us and support this great event! 
Great food, entertainment, the Oilers anthem singer (& Concordia vocal instructor) Rob Clark, tour snippets, and most importantly–
INCREDIBLE ITEMS to bid on!
-Sutton Place VIP Royal Suite, night for 4 (both floors!) Video tour of suite
here
 (it has since been renovated)
-Oilers tickets
-Staycations
-Guitars
-Cabela's commercial dehydrator
-One-hour massage
-Star Wars collectible poster
-Handcrafted quilts
-Car detailing
-Concert tickets
-Artwork & jewelry
-Wine baskets
-And much, much more! (Check out some teasers
here
)
ALSO PLEASE CONSIDER DONATING to help us achieve our remaining fundraising burden for this trip.
Donations of items, tickets, a service, a bottle of wine–even money!–would be gratefully received and acknowledged in our program and Facebook. Please contact
jennifer.maxfield@concordia.ab.ca
.
Follow the 
Facebook page
for teasers, scroll down for more details, and please extend the invitation to friends who might be interested! 
Tickets are $20 for adults and $15 for seniors and students (family rate parents & their children under 18, $50), available from choristers, at the Bookstore, or at the door.