Go back to news
The 'Flipped Classroom' comes to CUE
Posted on: Nov 4, 2016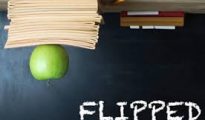 In response to instructor requests our friends at MacEwan CAFE will be delivering a free 2-part workshop series on the 'Flipped Classroom' on campus here at Concordia. All CUE instructors are welcome to attend. Event details, including information on how to register, are as follows:
Where: CUE, room S302
When: Feb 8 and 15, 2017, from 9:30am-11:30am.
Cost: Free
Registration: Please email kim.peacock@macewan.ca
An attempt was made to accommodate the availability of as many instructors as possible who respinded to the Doodle Poll sent out in October. Please feel free to attend only one session if you are unable to attend both, although obviously attending both will be more beneficial.