Go back to news
Thank you for helping to make our #ErasetheStigma event successful
Posted on: May 16, 2019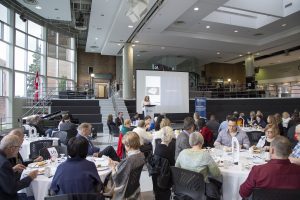 Thank you to all who attended our 3rd annual President's Fundraising Breakfast for Mental Health this morning. We are pleased to announce that a net amount of $22,060.00 was raised, a great increase from previous years!
It was a great event with speakers Georgette Reed, Mental Health First Aid instructor and advocate, giving the keynote address, and Nicole Ness, a CUE student telling the story of her own personal experiences.
The proceeds from today's event will go directly to the Shaughn O'Brien Mental Health Fund, which was created in 2016 to honour the life of a beloved CUE student. In addition to maintaining the current supports in place, in 2019-20, these generous donations will also help to:
Develop anti-stigma initiatives, utilizing internally and externally developed resources, such as peer support resources.
Increase availability of programming and training for students, faculty, and staff to build personal resilience and wellness, and to promote academic and professional success.
Enhance support during critical transition times for all members of the campus community. Develop new initiatives for the campus community.
Increase awareness of the early alert program for students who are academically at-risk.
Work with external partner organizations to expand support through various modalities and hours of services including the provision of 24-hour access to mental health resources on campus and within the community.
This confirms our commitment to the mental health of our students and continues to be an important focus for CUE going forward.
We're very grateful for the generosity of our guests and donors. We look forward to keeping the conversation going and #erasethestigma.