Go back to news
Syrian Students Share their Culture on Campus
Posted on: Nov 29, 2016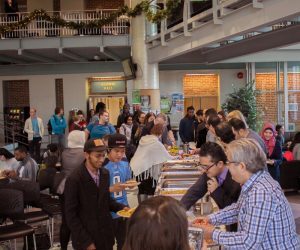 "My homeland, My homeland
Glory and beauty, Sublimity and splendor
Are in your hills, Are in your hills
Life and deliverance, Pleasure and hope
Are in your air , Are in your Air"
The dynamic and vigorous celebration of the Syrian Family Gather Together started with the above beautiful song. The Syrian students from Concordia University of Edmonton's English for Academic Purposes (EAP) program and their families, newscomers to Canada, presented a touching festival yesterday on November 28, 2016.
 "We welcome our Syrian students and their families to Concordia. We are one globalized family." Dr. Manfred Zeuch, Vice President International and Research said.
The Syrian students made a presentation on their homeland's glorious culture, history, civilization, economics, geography, cities, mosques, churches, scientists, people, and Syria before war and after.  
"We came to Canada as Syrian newcomers last year. We had bad circumstances back home because of the war. Now we are so glad to be here in Canada because living in Canada is like a dream for everyone." The Syrian students said.
The Syrian students and their families' passion, positive attitude, perseverance, love and care for life and people touched everybody's heart at Concordia. Various types of Syrian food were shared with family and friends.  "Keep calm and love Canada." This is the message the Syrian group wants to share with us and we received it.  Concordia is proud to build bridges between Canada and the Syrian newcomers' community. (XFang)