Go back to news
Summer Music Camps Bring Youth to Campus
Posted on: Jul 27, 2018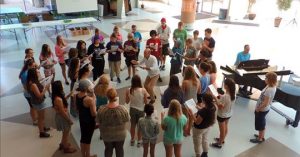 For the 19th year this August Concordia hosts SINGSPIRATION, our award-winning choral camp for youth. The event attracts outstanding choral clinicians and scores of youth and teachers from across Alberta and beyond to our campus, and 150 adult singers from the greater Edmonton area.
One of Alberta's top summer music experiences for young people, the week is a highlight of the season for many students grades 4-12 who learn and sing under the direction of stellar North American choral conductors. This year's camp, held August 13 through 18 on our campus, features choral icons Mark Sirett (Ontario) and Elroy Friesen (University of Manitoba). Attendees spend the week singing and exploring other interests such as art, drama, and sports, and develop lasting friendships and confidence along with musical gifts. Noon-time concerts and a concluding concert are open to all, and attract members of the community.
Paralleling this camp are two components for adults: Inspiration for Teachers, a customizable professional development track offering workshops with master teachers and conductors and daily observations; and the evening Adult Summer Choir, which brings in a renowned conductor—this year Mark Sirett—to work with community choristers for the week, culminating in a final concert Friday night.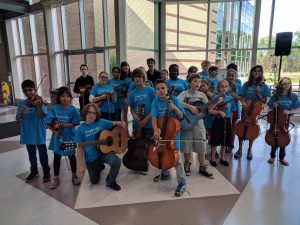 The previous week Concordia hosts the third year of STRINGSPIRATION, a full-day summer string camp for youth entering grades 4 through 12, this year August 7-10. The camp offers top-quality masterclasses, chamber ensembles, composition, musicianship & aural training, performance opportunities, fun outdoor games, and more for novice to advanced string players in violin, viola, cello, bass and guitar.
For more information or to register for any of these programs, please visit us online at singspiration.concordia.ab.ca or stringcamp.concordia.ab.ca. For questions contact singspiration@concordia.ab.ca or stringcamp@concordia.ab.ca.