A Week of Discussion
In the third week of March, CUE hosts a week of awareness for Missing, Murdered and Exploited Indigenous Peoples. It is important that our campus community engages in learning and dialogue that centers Indigenous Peoples in Canada, including the disproportionate rates of missing and murdered Indigenous women, men, and two-spirits (2S). In the spirit of healing and justice, we challenge our community to participate, reflect, and continue the conversation within your circles. Only together we can address, reform, and create safety for all members of our community.
#nomorestolensisters #mmeip
Everyone is welcome to attend. Registration encouraged for select events. See this year's schedule below.
Quick Facts
Schedule of Events
FRIDAY, MARCH 25
2 PM ● IKRC
Closing Ceremony and Circle
Learning & Support Resources
Want to learn more? Click HERE for a list of books, eBooks, reports, videos and other resources OR visit the CUE Library's display.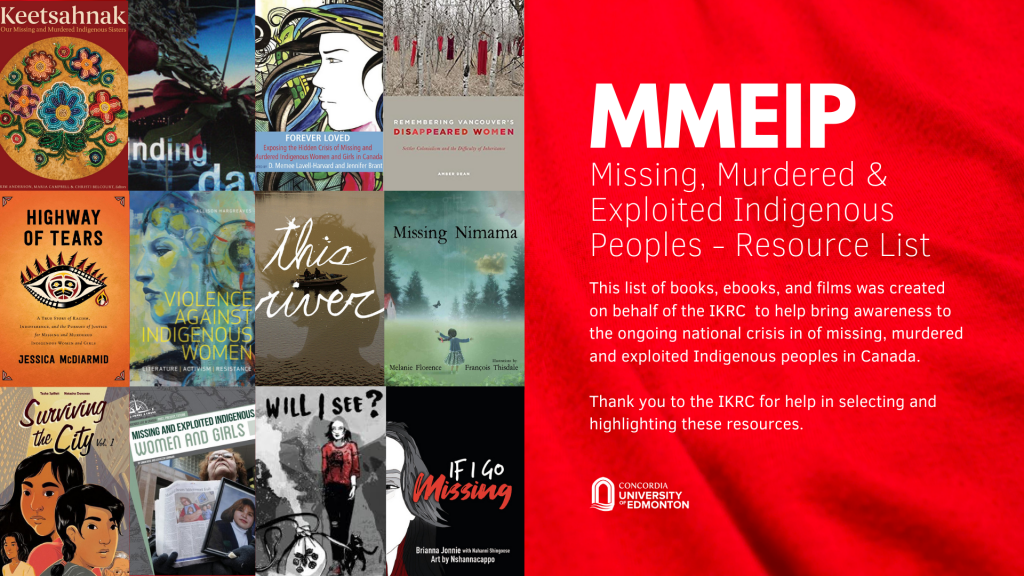 Peer Support
We recognize that the content covered during the week may be triggering or distressing for participants. Students can access Peer Support at select MMEIP events or during their regular office hours. Download the Winter 2022 Peer Support schedule HERE.
All other participants can access a list of supports by clicking HERE.
Partners
Thank you to our planning committee and partners for bringing together the 2022 MMEIP Week of Discussion. Partners include: CUE Library, Athletics and Recreation, Fine Arts, Marketing, Concordia Student Association, CUE Indigenous Fellowship and the Indigenous Knowledge and Research Centre.
---
Questions? Contact Danielle at Danielle.Powder@concordia.ab.ca for more information.
Join the IKRC's group on Facebook.