Go back to news
SSHRC Insight Development Grants 2018 – Information Sessions, Support for Applicants
Posted on: Dec 5, 2017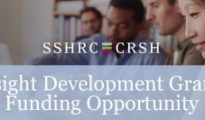 Do you intend to apply to the SSHRC Insight Development Grants competition for the February 2, 2018 deadline? This month, the Office of Research Services will be delivering a series of faculty support sessions to assist potential applicants. 
*Tuesday, December 12: SSHRC Webinar 
*Thursday, December 14: Information Session for Potential Applicants
*Monday, December 18: Canadian Common CV (CCV) Lab
SESSIONS
Webinar: Insight Development Grants 101
December 12 | 11:00 am – 12:30 pm | Room HA206 
SSHRC will be holding a webinar to present and answer questions about the upcoming Insight Development Grants (IDG) 2018 competition. 
Information Session: How to Apply for the Insight Development Grant
December 14 | 11:30 am – 1:00 pm | Room HA206 
This session will provide potential applicants with an overview of the Insight Development Grants funding opportunity. Research Officer Lainna ElJabi will take participants through the application process, explain how applications are adjudicated, and provide tips on preparing a strong application.
Workshop: Canadian Common CV (CCV) Lab
December 18 | 2:00 pm – 3:30 pm | Room HA314 
All applicants in the SSHRC Insight Development Grants competition will be required to complete a Canadian Common CV (CCV) when submitting their applications. This lab is intended to guide applicants through the process of registering for a CCV account and creating a CCV for the IDG competition. Please bring your laptop and a copy of your CV for reference.
Sessions are drop-in but please notify Lainna ElJabi, Research Officer at lainna.eljabi@concordia.ab.ca if you are planning to attend
 If you intend to apply for this, or any external research grant competition, please contact me at lainna.eljabi@concordia.ab.ca for eligibility confirmation and individual assistance.
About the SSHRC Insight Development Grant The Insight Development Grant supports research in its initial stages and enables the development of new research questions, as well as experimentation with new methods, theoretical approaches and ideas. Funding for short-term research development projects, of up to two years, proposed by individuals or teams. At least half of the award budget is allocated to funding Emerging Scholars so it is an excellent opportunity for emerging scholars to launch their SSHRC-funding research programs!