Go back to news
Speak Science Simply Program is open for registration
Posted on: Apr 26, 2022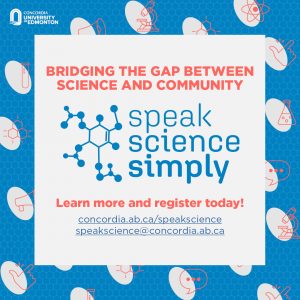 In a time where misinformation has gained momentum, there is a need to Speak Science Simply.
Speak Science Simply is an outreach program that aims to provide individuals involved in science and research with the skills and confidence to communicate effectively and share their work with the general public. The program is open to the public, including interested participants from across scientific fields, and is led by Dr. Cecilia Bukutu (Faculty of Science).
Registration is now open!
To register for one or more modules, please visit here .
For more information about the Speak Science Simply program, please contact speakscience@concordia.ab.ca or cecilia.bukutu@concordia.ab.ca