Go back to news
Soroptimist's Live Your Dream Award Winners
Posted on: May 13, 2020
Congratulations to Amanda Robinson and Jennifer Zimmerman, Bachelor of Arts students at Concordia University of Edmonton, on being selected as regional recipients of the "Live Your Dream – Soroptimist Award" for 2019-2020. Each year, more than $1 million in education awards is disbursed to deserving women through this award-winning program. 
Soroptimist International Edmonton is one of the first clubs to be chartered in Alberta. Since its charter in 1936, the club has contributed to the well being of the community and communities throughout the world. They have supported the Women's Emergency Accommodation Center, Compassion House (a home away from home for women under going treatment for cancer), Candora Society, WINGS of Providence (shelter for women), Women Building Futures Society, Alberta Cancer Foundation/The Weekend to End Breast Cancer, and E4C School Lunch Program. Find out more at www.siedmonton.org.
This $4000 award is making a difference to me as a single mom and sole financial provider to my son. Being a full time student makes it difficult to make ends meet. I plan to continue in the Bachelor of Education program at CUE and become a school teacher.  I chose Concordia because I like the idea of smaller class sizes and accessibility to Professor's for help, if needed.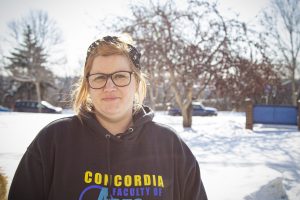 I work and I'm a mom to 3 boys. This $2000 award will help ease our financial burdens. I plan to get my masters in Psychology and become a counselor. I chose Concordia because I like the classes offered and the size of the school.