Go back to news
Singspiration Closing Concerts: You're Invited!
Posted on: Aug 17, 2018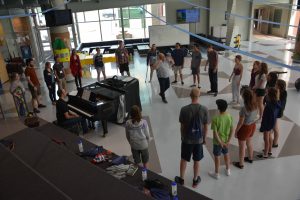 Over the last week you've likely caught a snippet of the Singspiration junior, youth, or adult choirs singing, dancing, drumming, "improvving," and/or listening to noontime recitals, whether classical, folk, spirituals, pop, or the Pink Panther, in what often offers community members an introduction to this fine institution.
Your chance to hear the final product has arrived: please join us for either or both of the concluding concerts for this 19th edition of Singspiration!
Your Concordia ID gets you into these concerts; additional tickets are available at the door for $15.
Tonight at 7:30 in Tegler: Choral icon Mark Sirett conducts a choir of nearly 150 Edmonton-area singers in a program (classical, folk, and spirituals) that also includes guest flautist Lucas Waldin of the Edmonton Symphony Orchestra and country bass guitar hero Travis Switzer
Saturday 3 pm in Tegler: Junior and Youth Choirs perform catchy "earworm" sets of folk and pop classics under the direction of Adam Robertson (U of A) and Elroy Friesen (University of Manitoba)
Hope to see you here!