Go back to news
Singspiration: 20 Years of Choral & Community Impetus
Posted on: May 28, 2019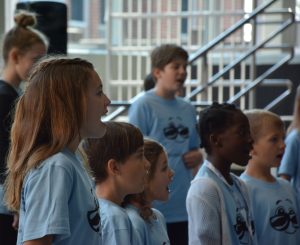 This August Concordia's award-winning summer camp for youth celebrates 20 years of inspiring song! Not to mention confidence, empathy, community, leadership, Concordia connection, and more. For two decades now SINGSPIRATION has attracted stellar choral clinicians and scores of youth and teachers from across Alberta and beyond to our campus, along with 150 adult singers from the greater Edmonton area.
One of Alberta's top summer music experiences for young people, the week offers an enticing portal into the world of choral singing. Or, the chance for advanced choristers to grow with a top North American conductor, who becomes a mentor. For some the dorm option offers a new measure of independence, or an introduction to university life. For many it is the highlight of the summer, and an annual reunion with dear friends.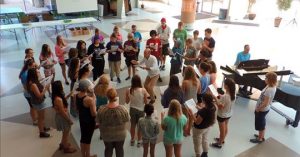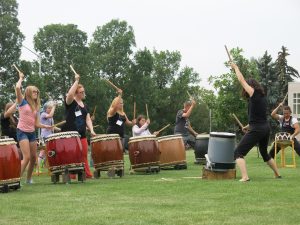 Whatever draws them to the Concordia campus for this week, campers are immersed for six days in the worlds represented by the music and texts– folksongs, classical, indigenous, global music, profound to silly. Daily they are challenged to listen and watch more carefully, to blend their voice with others, to follow and to grow in leadership. Through the week they outgrow their comfort zones musically, socially, and as they explore a range of interests such as art, handbells, or sports. Their interest is piqued by a diversity of talent in the daily noon-time recitals. At the end of the week they share with family and friends what they have learned in the concluding concert. They say tearful goodbyes.
And start dreaming about next year's camp!
Register by May 31 for the best rate. Only $335 for the week! Details and registration here. Questions? Contact singspiration@concordia.ab.ca or call Jennifer at (780) 479-9304.
This year's camp, August 12 to 17, features Dr. Melissa Morgan, Regina (one of CBC Saskatchewan's 2017 "40 under 40") and Meghan Rayment (ECSD and Edmonton Young Voices).
Also that week:
Inspiration for Teachers, a customizable PD stream with master teachers and conductors and daily observations. And the evening Adult Summer Choir, which brings in a renowned conductor—this year Edmonton's own Jordan Van Biert—to work with community choristers for the week, culminating in a concert Friday night.