Go back to news
Happy Holidays, from the Office of Research Services
Posted on: Dec 11, 2020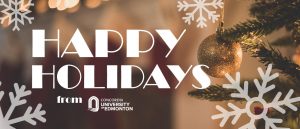 The Office of Research Services (ORS) wishes all members of CUE a great Winter Break and Holiday Season 2020.
While COVID-19 has made this a very unusual and complicated year, we hope that you remain healthy and are able to reach out to your family and friends in a safe manner.
The ORS has been working virtually since March. Due to the enhanced COVID-19 measures set by the Government of Alberta, we have suspended in-person service until further notice. We will keep restrictions in place as per Alberta's Relaunch Strategy along with the ongoing advice and recommendations of Alberta's Chief Medical Officer of Health.
The ORS virtual office will be closed on December 18th at noon and will reopen on January 4th.