Go back to news
Save the Date: Global Perspectives of Inclusive Education – Workshop on Chinese and Western Approaches to Inclusion
Posted on: May 8, 2017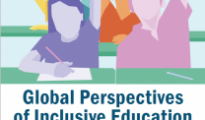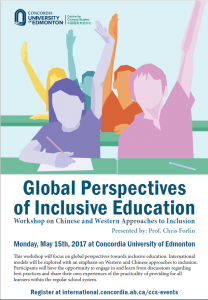 The Centre for Chinese Studies presents
Global Perspectives of Inclusive Education
– Workshop on Chinese and Western Approaches to Inclusion - 
Location: Concordia University of Edmonton
Time: Monday, May 15, 2017
Presenter: Dr. Chris Forlin
This workshop will focus on global perspectives towards inclusive education. International models will be explored with an emphasis on Western and Chinese approaches to inclusion. Participants will have the opportunity to engage in and learn from discussions regarding best practices and share their own experiences of the practicality of providing for all learners within the regular school system. This will be an interactive and engaging workshop where a range of pertinent issues regarding inclusive education will be explored. The workshop will be highly relevant to system administrators, school leaders, inclusive teachers, support staff from public and private school systems and research students.
A consultation opportunity with the presenters in small groups will be available. Teachers, researchers and undergraduate or graduate students are welcome to dialogue with the presenters in a separate reception session following the workshop.
Professor Forlin is an international education consultant, researcher and Independent Public and Non-Government Schools' reviewer, based in Perth, Australia. Her research and publications focus on equity and diversity; change paradigms in education; education policy and practice; along with curricula and pedagogy for teacher education; with innovative research in working with systems, governments, and schools to establish sustainable inclusive education. Chris provides leadership in research in education reform for special and inclusive education in the Asia-Pacific region and has widespread extensive international experience in education working in the field of teacher education for more than 40 years. In 2013 Chris completed two major research projects for the Australian Government on a review of the best evidence in relation to theory and practice for inclusive education for students with disability across all jurisdictions. Chris also has over ten years' experience working in Hong Kong and mainland China.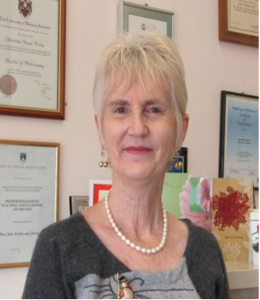 Dr. Tim Loreman, President of Concordia University of Edmonton whose research area is Inclusive Education, representatives from Alberta Education and school jurisdictions who are in charge of Inclusive Education will also join the workshop and provide insights from a broad point of view.
Registration: Global Perspectives of Inclusive Education
https://www.eventbrite.ca/e/global-perspectives-of-inclusive-education-workshop-on-chinese-and-western-approaches-to-inclusion-tickets-31036785862
This workshop is free for Concordia students, staff, instructors and faculty (lunch included). Please contact our international office at xinxin.fang@concordia.ab.ca or zuzana.ritzer@concordia.ab.ca, or stop at HA 107 A (Welcome Centre) for registration. CUE internal registration dealine: May 9.
Concordia University of Edmonton – Building Bridges