Go back to news
Christmas Potluck! Register your Dish! Dec 19, 2018 – 12:00pm – Tegler
Posted on: Dec 17, 2018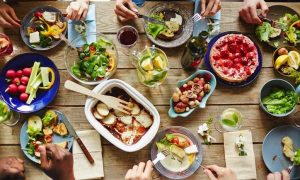 It's that time of year again! The annual Staff Christmas Potluck is back!
When: Wednesday, December 19, 2018 @ Noon
Where: Tegler Student Centre
What to do: Fill out the google form linked below to let us know what favorite holiday dish(es) you will be bringing to enjoy and share with your colleagues!
Christmas Singing Contest! This year we will be holding a Christmas song singing contest for anyone who would like to participate. There are 2 gift baskets up for grabs, with the winners being determined by the audience. Conversely, your table will NOT be required to sing to be served. Instead, a random draw of table numbers will determine eating order.
Don't know what to bring? Here are some idea's/what's missing: vegetables, salads, fruit tray, cheese and crackers.
NOTE: Coffee, Decaf, and Sparkling Cranberry Punch will be provided!
Filling out the survey will enable everyone to know what dishes and potential allergens are to be expected. This post will continue to be updated with a list of dishes on Inside CUE weekly until the day of the event. If you have previously filled out the google form, the HR team kindly asks that you submit your answers once more 🙂 We are looking forward to see what everyone brings!
Please find the google form linked here: https://goo.gl/forms/CdyBjiXHD8b98auJ3
Dish/Ingredient List: https://docs.google.com/spreadsheets/d/1JweCNcqNB5mqmbFszVtRd4tdQ3aju-FujTNOLgC_xsI/edit?usp=sharing