Go back to news
Save the date – 2021 National Data Services Framework (NDSF) Summit
Posted on: Feb 9, 2021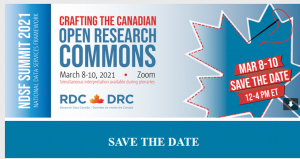 Research Data Canada (RDC) is inviting researchers to participate in the 2021 National Data Services Framework (NSFF) Summit. Registration for this event will open soon.
For this summit, the RDC is "…particularly interested in having a strong representation from the researcher community for this year's discussion."
From RDC:
"You are invited to a national conversation focused on building a robust, sustainable, and effective research data management ecosystem.
The 4th National Data Services Framework (NDSF) Summit is a forum where the Canadian research community can learn, collaborate, exchange ideas, and discuss common issues, with a goal of developing a shared understanding of the current data management landscape and recommendations for future initiatives.
Who should attend?
The NDSF Summit is targeted at all levels of participants in the research ecosystem, including:
researchers
infrastructure providers
funders
publishers
librarians
research service providers
senior administrators
Topics:
The 2021 Summit will use small group discussions as the foundation, and will focus on:
the needs of researchers and intersections with existing/emerging research data management services and resources;
synergies with the three research-facing digital research infrastructure (DRI) pillars (data management, research software, and advanced research computing);
intersections between national and international actors and jurisdictions; and
"rules of engagement" for platforms/services/resources to participate in a NDSF.
Results of discussions with inform the evolution of the NDSF and build on previous NDSF Summit outputs, as well as the collective activities of the Canadian research data management community.
March 8 – 10, 2021 via Zoom
Simultaneous interpretation available during plenaries"