Go back to news
"Romance & Roses" at Choir's Silent Auction Friday
Posted on: Feb 7, 2019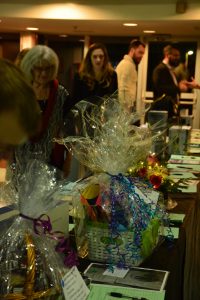 The students of the Concordia Concert Choir invite you to their 10th annual silent auction, "Romance & Roses," Friday, February 8 at 7 pm in Tegler.
This elegant and fun evening includes refreshments and entertainment by the choir and individual singers. And of course many enticing items to bid on!
Just a few teasers:
Righand vodka, distillery tour, & tasting for 12
One-night stay for two at Metterra Hotel on Whyte (with wine-tasting & breakfast buffet)
Edmonton Oilers tickets package
Four-hour bouncy-castle rental from Alight Bounce Corp.
Handpainted antique chair
Two-night stay in private queen suite at Jasper Downtown Hostel
Handmade vintage lockets
And picnic baskets, original art, voice lessons, concert tickets, themed baskets & other treats for all tastes!
More peeks at Romance & Roses Facebook page.
Proceeds go toward the choir's next international tour, planned for 2020 to China! A special performance by the Edmonton Chinese Art Society orchestra will offer a taste of the culture the choir eagerly anticipates encountering next year.
Tickets are $15 for adults and $10 for students and seniors, and are available from choristers or at the door.