Go back to news
Rob Clark Enchants as Hansel and Gretel's Witch
Posted on: Feb 1, 2019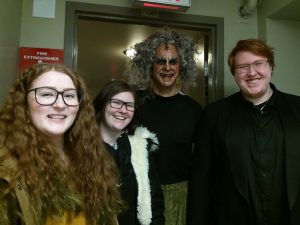 Concordia voice instructor Robert Clark, otherwise known as the Edmonton Oilers anthem singer, shines as The Witch in Edmonton Opera's current production of Hansel and Gretel.
The Witch, of course, contributes the central tension to one of the most beloved fairy tales from the Brothers Grimm, plotting to bake and eat the young siblings. But Rob fills the role with outsized personality (as well as costuming and make-up!), in a drama justifiably billed as "deliciously dark."
"I'm just this larger than life, kind of grotesque figure [and] it's just so much fun," he says. "There's so much depth to it, so much character that I can put into it." He stole the show in Thursday's dress rehearsal, according to several Concordians who attended.
"I was blown away–I'm so glad it was my first time at an opera!" raved second-year Music student Brennan Dery, who studies voice with Rob. "It was literally breathtaking. And just–fun!"
The show runs through next Friday, February 8, and is appropriate and engaging even for elementary-aged children, judging from the audience response. Tickets available here. Read the Edmonton Journal preview by Concordia English professor Mark Morris here.

Especially close up!