Go back to news
Research Talk-Surveillance in China: The 'Big Brother' Who Watches You and Your Family
Posted on: Apr 7, 2021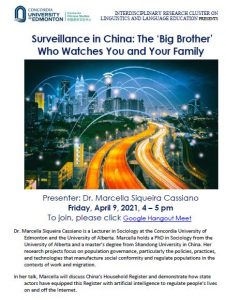 In her talk, Dr. Marcella Siqueira Cassiano will discuss China's Household Register and demonstrate how state actors have equipped this Register with artificial intelligence to regulate people's lives on and off the Internet.
Presenter:
Dr. Marcella Siqueira Cassiano holds a PhD in Sociology from the University of Alberta. She is a Lecturer in Sociology and Criminology at Concordia University of Edmonton, and a Postdoctoral Research Fellow at the Department of Sociology of the Memorial University of Newfoundland. She researches population governance issues in China and Canada.
Date: Friday, 9th April, 2021
Time: 4:00-5:00 pm
To join, please visit here.
For more information about Concordia University of Edmonton's Office of Extension, contact us at extension@concordia.ab.ca