Go back to news
Relevant highlights from the Federal budget
Posted on: Mar 23, 2017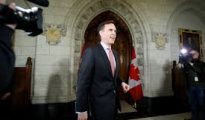 Yesterday's Federal Budget provided some helpful support for Canada's universities in areas of research and innovation, talent mobilization, and Indigenous learning. How this will impact CUE is yet to be seen, but Universities Canada monitored the budget announcement on behalf of its 97 members (including Concordia) yesterday and summarized the key points as follows:
I. Research and innovation
 Canada's universities look forward to the release of the final report of the Review of Federal Support for Fundamental Science. This report is expected to provide the government with an important opportunity to send a clear signal to all Canadians, and to the world, of its commitment to regain leadership among OECD countries for investments in university research.
 Last year, the granting councils received the highest amount of new annual funding for discovery research in over a decade. The Review of Federal Support is expected to lay the groundwork for future federal budgets with respect to reinvestments in the granting councils.
 The Canada Foundation for Innovation, based on the major investment made in Budget 2015, is able to continue its current programming with no impact on the university community. The Review of Federal Support will be very important in setting expected directions on sustained investment in research infrastructure in Budget 2018.
 Health researchers will benefit from new funding to CIHR to partner with federal departments on climate change and the effect of the opioids crisis.
 Canada's universities welcome the federal government's commitment to fund the Canada 150 Research Chairs program. This program will help attract 25 top researchers from around the world to Canada's universities and enhance Canada's reputation as a global centre for innovation, science and research excellence.
 Recent events in the United States and United Kingdom provide an unprecedented opportunity to attract leading researchers to strengthen our skills, research and innovation performance.
 We welcome new investments in Canada's Innovation and Skills Plan. Canada's universities play a key role in driving our innovation ecosystem for an inclusive and prosperous future. We are pleased that the role of universities as partners with business is reflected in Budget 2017 strategy for innovation superclusters.
II. Talent mobilization
Global Skills Strategy:
 The work-permit exemption for brief academic stays under the government's Global Skills Strategy is a welcome initiative that will facilitate the arrival of leading international researchers to our campuses.
Skills development:
 The launch of a new organization to support skills development and measurement in Canada reflects the importance of preparing Canadians to meet future labour force needs.
 Universities play a vital role in equipping all Canadians, through continued education and lifelong learning, with the skills they need to adapt to shifting economic demands and make a meaningful contribution to unlocking innovation and driving Canada's growth.
Work integrated learning:
 Funding of $221 million over five years towards Mitacs' goal of providing 10,000 work-integrated learning placements for Canadian postsecondary students and graduates each year is an important step in providing more Canadian students with valuable hands-on experience outside the classroom and research labs.
III. Indigenous higher education
 Indigenous education continues to be an urgent national priority. We are very pleased that the federal government will increase funding to the Post-Secondary Student Support Program by $90 million over two years to support over 4,600 Indigenous students access higher education.
 Canada's universities strongly welcome new federal investments of $5 million over five years to support Indigenous students across the country through Indspire scholarships and bursaries.
 We are committed to continuing our active engagement with First Nations, Métis and Inuit and the federal government to advance Indigenous post-secondary student access and success.
 We look forward to participating in the federal government's upcoming review of its programs that support Indigenous students who wish to pursue post-secondary education.