Go back to news
Register today for the November Student Research Café!
Posted on: Nov 9, 2022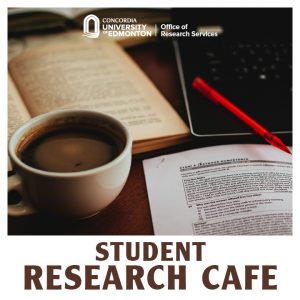 The Office of Research Services is pleased to announce the November 2022 edition of the Student Research Café series!
Please RSVP here to join us for this event on Tuesday, November 15 at 12 p.m. in the Indigenous Knowledge and Research Centre (AW124).
REFRESHMENTS WILL BE SERVED.
What is the Student Research Café?
The Student Research Café provides an opportunity for students and researchers to meet informally, and for students to engage directly with researchers.
Students will be invited to ask questions about topics ranging from research in an academic environment to career choices and entrepreneurial opportunities.
This month, students will have the chance to meet Molly Swain.
Speaker Profile

Molly Swain is an otipêmsiw-iskwêw currently living in amiskwaciy-wâskahikan, Alberta, on Treaty 6, Métis Nation of Alberta Region 4, and Nehiyaw-Pwat territories.
She is a PhD student in the Faculty of Native Studies at the University of Alberta, where she is studying twentieth-century Métis history and land-based learning and governance.
She is also a co-founder of Free Lands Free Peoples, an Indigenous-led anti-colonial prairie penal abolition group, and co-host of otipêyimisiw-iskwêwak kihci-kîsikohk / Métis in Space, an Indigenous feminist science fiction podcast and Land Back project.
Molly is keen on total liberation, karaoke, and Star Trek.
This event series is organized by the Office of Research Services. Research at Concordia University of Edmonton is supported in part by the Research Support Fund, a Tri-Agency initiative that assists Canadian post-secondary institutions with costs associated with managing research funded by the federal research granting agencies. Concordia University of Edmonton acknowledges the value of this support and appreciates this ongoing research investment.