Go back to news
President Loreman's Wednesday Update (Thursday edition) Jan 14, 2021.
Posted on: Jan 14, 2021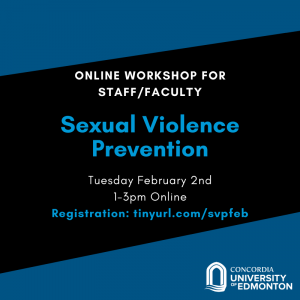 Dear CUE Community,
Welcome to our second week of classes. I hope that both our students and instructors are settling into productive routines. It may seem quiet as we all work and study from home, but let me assure you that we are as busy as ever at CUE, devoting our time to improving the student experience and making sure that we successfully push through this pandemic despite the current restrictions on our lives.
It is an unfortunate and unacceptable fact that sexual violence occurs on all campuses, and we would be naïve to think that CUE could be an exception. We all have a role to play in eliminating it. Campus Wellness is hosting two important upcoming Sexual Violence Prevention sessions. The first is for students and will be happening on Wednesday January 20 from 4-6pm. Any interested student can register here. The second is for staff and faculty. This session will be on February 2 from 1-3pm and registration can be found here. Attendees will learn more about what sexual violence is, what policies and programs exist at CUE to support students, and how to supportively respond to incidents of sexual violence. Everyone who attends will also receive a certificate! Although this is a busy time, rates of sexual violence continue to climb during COVID-19, so we hope you will join us to learn more about protecting our community. Any questions can be sent to William Logan. 
This is also the time of the semester when I need to provide a reminder that tuition and fees need to be paid if you have not already done so. Information about tuition and fees during the pandemic, along with a link to Financial Aid for those with questions about that, can be found here.
All the best for the coming week. Stay home, stay safe, and stay healthy.
Best,
Tim Loreman, PhD.
President and Vice Chancellor.