Go back to news
President Loreman's Wednesday Update, August 11, 2021.
Posted on: Aug 11, 2021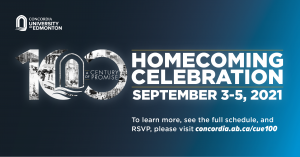 Dear CUE Community,
I am glad to be back from vacation and am looking forward to our busy fall start-up. I have had a few questions about COVID-19 precautions as we return to campus. Our full return to campus plan can be found here. The key message that I need to reinforce is one of kindness and consideration. We don't need to have rules for everything, especially in our community that prides itself on caring relationships. As one example to illustrate this point, if someone asks if you would please wear a mask during a class or a meeting, be polite and do it happily. Do it because you are a nice person and a responsible citizen. At this stage we are well beyond having to impose rules to enforce acts of common courtesy. Such acts are simply an expectation, and indeed form the basis of two of our Institutional Learning Outcomes that speak to exemplifying an ethical character and practicing full citizenship.
Another act of common courtesy and decency, as I have said many times, is getting vaccinated. We have a moral obligation to one another to do so. Everyone is aware of the anti-vaccination misinformation being spread across the internet and social media, but none of it holds up to real science. The person on Twitter or Facebook has not found something that the world's best scientists and doctors have missed, and to believe that this could be the case is misguided and dangerous. Join the cool people (because, of course, a 51-year-old university president knows what is cool) and get vaccinated – it will make our return to campus much safer.
A few of our key upcoming dates include:
Stronger Together: A COVID-19 conversation – August 18
CUE parent orientation – August 19
Convocation 2020 – August 20
Convocation 2021 – August 21
Faculty and instructor orientation – August 23
The CUE 100 Homecoming Weekend – September 3-5
Finally, my regular Wednesday Updates started in March of 2020 as we went online due to COVID-19. They have been one means of communicating with our community and keeping everyone informed as we navigated the pandemic off-campus. As we return in-person, I have decided to continue with these updates via video on a monthly basis. That said, the best source of news and information can always be found on Inside CUE, and I recommend that you visit that side each day.
Best,
Tim Loreman, PhD.
President and Vice Chancellor.