Go back to news
President Loreman's Wednesday Update, April 28, 2021
Posted on: Apr 28, 2021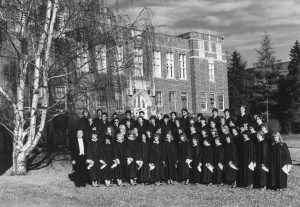 Dear CUE Community,
In last week's video update I briefly mentioned our safe return to campus. I want to highlight again that safety will be our highest priority when we return to a much greater level of face-to-face interaction in the fall, and we are already deeply engaged in our planning for that. As Canada fights through this severe third wave of COVID-19 I understand that there are many in our community who are increasingly anxious. It is important to remember, however, that September is unlikely to look like the situation we face today. Vaccinations will have largely rolled out across the majority of the population, and the advice we have received from AHS and the Ministry of Advanced Education is that a return to campus should be possible. We are committed to following all guidelines and advice from the authorities, and complying with Occupational Health and Safety law that mandates the provision of a safe place in which to work and study. Our situation is helped by our new policy on the flexible delivery of courses, which all faculty members and sessional instructors are encouraged to consider.
May 3-9, 2021 marks the 70th annual CMHA Mental Health Week which focuses on how naming, expressing, and dealing with our emotions — the ones we like and the ones we don't — is important for our mental health. Find out more about Mental Health Week here and check out related resources here.
What can you do to support mental health? Join us on Thursday, May 6, 2021 for Concordia University of Edmonton's fifth annual President's Fundraising Breakfast for Mental Health. The President's Fundraising Breakfast for Mental Health is one of our signature, and most important, events. The funds raised through the breakfast are allocated to the Shaughn O'Brien Mental Health Fund to create, support, and advance mental health services and initiatives on campus. To date, the fund has raised over $140,000 and has allowed us to take important steps towards reaching our objective of being a campus that emphasizes the importance of mental health and provides adequate support to our students when they need it most. Register here! 
Interested in some professional development in the areas of mental health and suicide prevention? CUE Wellness is offering several virtual workshops this Spring which are FREE and open to students, staff and faculty. Find out more here.
Best,
Tim Loreman, PhD.
President and Vice Chancellor.