Go back to news
President Dr. Krispin's New Visit in China and New Agreement Signed
Posted on: Dec 13, 2016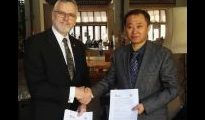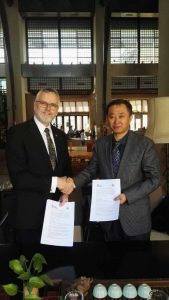 CUE President Dr. Gerald Krispin was invited to attend the 11th Confucius Institutes Conference from Dec. 9 to 11, in Kunming, Yunnan Province, P.R. CHINA. The theme of this year's conference is "Innovation, Cooperation, Inclusion, and Sharing". A total of 2,200 delegates attended the conference, including university presidents and representatives of Confucius Institutes from 140 countries and regions, envoys from foreign embassies in China, representatives of international institutions of language and culture promotion, as well as representatives of relevant ministries, local educational authorities and Chinese partner institutions.
The Confucius Institute Conference, also known as the "Davos of Education", is a grand annual meeting of Confucius Institutes around the world. During this year's conference, seven Presidents' Forum were held to share experience, enhance exchanges, and strengthen cooperation.
During his visit in Kunming, Dr. Krispin also signed an agreement with CUE's partner university Capital Normal University (CNU), on an Undergraduate Study Program. Under this agreement, CNU will send 20 undergraduate students in Education to study at CUE in 2017 for two credited courses with CUE local students. This program will be operated through the Centre for Chinese Studies (CCS) at CUE. The purpose of the program is provide an internationalized classroom for both CNU students and CUE students to have a dialogue and to build up cross cultural competency.
Concordia University of Edmonton – Building Bridges