Go back to news
Presentation: Duty To Accommodate
Posted on: Nov 18, 2021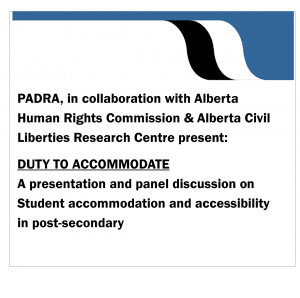 PADRA, in collaboration with Alberta Human Rights Commission & Alberta Civil Liberties Research Centre present:
DUTY TO ACCOMMODATE
A presentation and panel discussion on Student accommodation and accessibility in post-secondary
Date: Wednesday, December 8, 2021
Time

: 11:00 am – 12:30 pm MT

Facilitator

: Alberta Human Rights Commission and panel

Platform:

Zoom (a recording will be available after the session)

Accessibility:

ASL interpreter and live captioner will be available

Free
Members from Post-Secondary Accessibility Disability Resource Association (PADRA), Alberta Human Rights Commission, Alberta Civil Liberties Research Centre and others with lived experiences will be present to share information and answer questions. The topics they will speak to include the updated duty to accommodate guidelines, legislative updates, institutional processes for individuals seeking accommodation and current pandemic-related accommodation.
A moderated Q & A session will provide opportunity to have your questions and comments addressed by provincial organizations all working to promote more inclusive and accessible environments.
This event will be open to all interested professionals within post-secondary institutions and not just the PADRA membership. Capacity: 150.
To register, please watch this video with step-by-step instructions,  or follow the instructions listed below:
Click on the Meeting Registration link on the PADRA website or scan the QR code below.
Scroll to the bottom of the page to the event titled: 2021 PADRA Fall Sessions (Virtual) December Only. (

PADRA members have the option of registering for all three sessions and getting access to the recordings for past events).

Add to Cart (the Cart is found at the top of the webpage) to complete the registration form.
The option to indicate accessibility requirements for this presentation is available as you register.