Go back to news
Pink Shirt Day – February 28, 2018
Posted on: Feb 22, 2018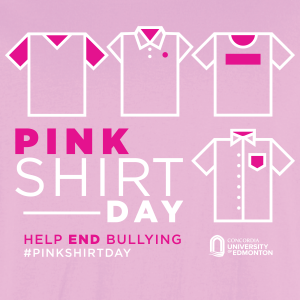 Concordia, we need your help to raise awareness to end bullying.
Over 75% of people say they've been bullied. Over 90% of bullying incidents have peer witnesses. But when those peers intervene, most incidents are over within 10 seconds. Bullying could be happening to someone you know and care about – join us in taking a stand against bullying, and letting your peers know that it is not okay. Show kindness, empathy, and compassion, and speak out!
While bullying affects so many people physically, emotionally and mentally, we know there are many  that want to know what they can do to help. Every contribution, whether it's joining us in wearing pink on February 28, 2018 to show you're taking a stand, or making an effort to practice kindness and acceptance, or even giving a donation or fundraising for programs that make a difference, can change a life.
CUE Pink Shirts are available for purchase in Tegler from 12:00 – 1:00 on February 26, 27, and 28, with all proceeds going towards the Shaughn O'Brien Mental Health Fund, to support mental health initiatives at Concordia. Please purchase a shirt for $10, and show that CUE Cares!