Go back to news
Tomorrow – Part 3: Wellness Spring Speaker Series
Posted on: Mar 30, 2021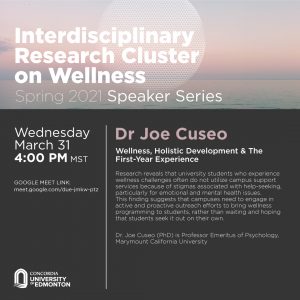 The Interdisciplinary Research Cluster on Wellness is proud to present its Spring Speaker Series. With expert speakers from all over North America, you'll hear fascinating and thought-provoking research, ranging from the pandemic and overall wellbeing to gender diversity to financial wellness.
Join us
for Wellness, Holistic Development, & The First-Year Experience
When: Wednesday, March 31
At: 4:00pm (MST)
Link: meet.google.com/due-jmkw-ptz

Use this helpful presentation outline document to assist with your note taking during the presentation.
Wellness, Holistic Development, & The First-Year Experience
Dr. Joe Cuseo (PhD), Professor Emeritus of Psychology, Marymount California University
Research reveals that university students who experience wellness challenges often do not utilize campus support services because of stigmas associated with help-seeking, particularly for emotional and mental health issues. This finding suggests that campuses need to engage in active and proactive outreach efforts to bring wellness programming to students, rather than waiting and hoping that students seek it out on their own. First-year experience programs can provide such early outreach and help short-circuit the growing mental health crisis on university campuses by equipping students with self-regulatory skills they can use to initially facilitate their transition to college and use subsequently throughout the post-secondary experience to optimize their academic performance and persistence to degree completion. This presentation and discussion will focus on high-impact wellness practices that campuses can use to equip first-year students with specific strategies for capitalizing on the post-secondary environment to develop themselves as whole persons and experience the holistic learning outcomes associated with a well-rounded post-secondary education.
About Joe Cuseo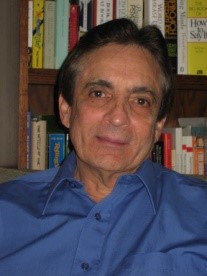 Dr. Joe Cuseo (PhD) is Professor Emeritus of Psychology, Marymount California University. Joe is a 14-time recipient of the "faculty member of the year award" on his home campus—a student-driven award based on effective teaching and academic advising, the "Outstanding First-Year Student Advocate Award" from the National Resource Center for The First-Year Experience and Students in Transition, and the "Diamond Honoree Award" from the American College Personnel Association (ACPA) for contributions made to the field of student development and the Student Affairs profession. Dr. Cuseo has served as an educational advisor to AVID for Higher Education—a non-profit organization whose mission is to promote the post-secondary access and success of underserved student populations, and as an academic program advisor for UThrive—a psychoeducational program designed to integrate positive psychology, mindfulness, and self-compassion into the post-secondary curriculum. Joe has authored numerous articles and books on student learning, student retention and faculty development, and has delivered hundreds of campus workshops, conference presentations and keynote addresses across North America, as well as Europe, Asia, Australia, and the Middle East.
Spring 2021 Presentation Series
Save the dates in your calendars for the whole series:
* Each presentation will be held at 4:00-5:00 pm (MST)