Go back to news
Painting Forward Art Exhibition 2021
Posted on: Aug 30, 2021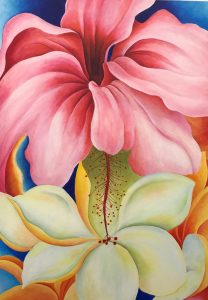 The Office of Extension and Culture will be hosting the Painting Forward Art Exhibition in the Student Design Thinking Room (AW 207) from September 1st  to October 1st 2021. We are excited to be able to present it during the CUE 100 anniversary celebrations. On display in the exhibition are some beautiful art pieces created by Extension and Culture students from the Integrative Sketching and Painting (course code: X-ART 01) course during the pandemic in Spring 2021. Students titled this exhibition "Painting Forward " to reflect their resilience during difficult times as well as their passion for art and better tomorrow.
Everyone is welcome to stop by AW 207 and enjoy these exceptional pieces of art!
A closing ceremony will be held on Friday October 1 at 7 pm at AW 207.
To learn more information about the course Integrative Sketching and Painting (course code: X-ART 01), please visit https://concordia.ab.ca/external-affairs/office-of-extension-and-culture/extension-programs/integrative-sketching-and-painting/ or contact us at extension@concordia.ab.ca