Go back to news
Our 2nd Polish Movie Night: Marie Curie–The Courage of Knowledge
Posted on: Apr 20, 2018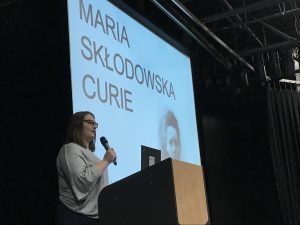 Our 2nd Polish Movie Night: Marie Curie–The Courage of Knowledge was a great success.  Over one hundred people from CUE and the community came together and engaged in discussion, inspired by the great female scientist who won Nobel Prizes twice in two different fields!
After Marie Curie received her first Nobel, her husband died.  She continued in her journey alongside another scientist, and was awarded her second Nobel.  She fell in love with her colleague who was a married man with three children.  Marie was not afraid of public opinion and fought hard to maintain her relationship with her colleague.  Their love was ultimately doomed and the relationship ended, but Marie was still highly regarded within the scientific community.  The movie is seen as controversial as it focuses more on Marie's private life.
CUE has multiple connections within the Polish community here in Edmonton and in Poland.  The University of Szczecin in Poland are exchange partners, and signed an agreement on Erasmus+ scholarships with CUE.  International Student Officer, Dr. Xinxin Fang, will visit the university in May.  CUE's first Chancellor, the Honourable Allan Wachowich and his wife Mrs. Bette Wachowich, along with CUE Associate Professor of Biological and Environmental Sciences Dr. Mariola Janowicz, who are of Polish descent, were present yesterday for the movie.
The movie night was sponsored by the Canadian Polish Congress, the Embassy of the Republic of Poland in Ottawa and the Polish Culture Society of Edmonton.