Go back to news
Now Available! CUE Research Computers
Posted on: Mar 21, 2022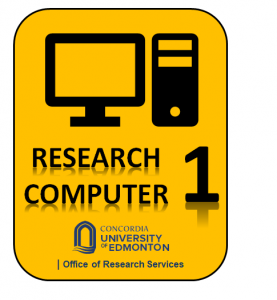 To assist CUE researchers, the Office of Research Services (ORS), with support from the Vice-President Academic & Provost, is pleased announce the launch of a Research Computer Unit (RCU).
This new unit will assist the investigations of CUE researchers by providing shared access to computer equipment for qualified research staff and students.
The RCU houses three shared desktop computers, and access to the RCU will be managed through an online booking system.
Research computers can only be used within the effective dates of an internal or external research grant to support the work of:
research assistants with valid contracts at CUE; or
graduate students and postdoctoral fellows who are under the direct supervision of a CUE faculty member with an externally-funded research project.
The RCU will not be available for other activities, such as student work for research courses that are part of an academic program.
Interested faculty members should contact the ORS at research@concordia.ab.ca for more details about how to access this new service.
Applications to use this new service will be reviewed and approved by the Assistant Vice-President, Research & Faculty Development.  Please note that access may be limited due to COVID-19 protocols.