Go back to news
New plaque installed at CUE's "Allan Wachowich Centre"
Posted on: Jan 31, 2019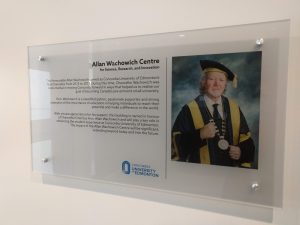 Allan Wachowich Centre (AWC)
The dedication plaque for Concordia's new building was installed today at the front entrance of what is now known as the Allan Wachowich Centre (for Science, Research and Innovation).
Our Chancellor Emeritus is thrilled to be a part of our past and future.  As a passionate supporter of education and its power for individuals to live out their potential, the Honourable Allan Wachowich has been deeply committed to CUE and our students. He says the importance of education was imprinted on him by his parents.  They left everything they had in Poland to be able to provide the best opportunities they could to their children. Allan certainly did honour their wishes as he worked his way through post-secondary to become a lawyer and then progress through his career, to become Chief Justice of Alberta.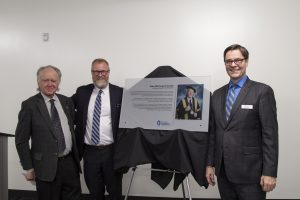 Dedicated Research Building
With that sentiment in mind, we are very excited about CUE's first dedicated research building, which will promote the best opportunity for students and faculty in collaborative research across the physical, biological, and health sciences disciplines as well as clinical psychology, indigenous learning, and information systems security.
A Step Closer
This is another step closer to completion for Concordia's brand new space. When the weather improves in the spring, we expect new signage to be installed on the outer walls of the building to identify the Allan Wachowich Centre to our external community.
What's in the AWC?
The AWC is home to a variety of student spaces and centres that focus on innovation and research:
CUE's thriving Indigenous Knowledge and Research Centre, the Centre for Innovation and Applied Research and our brand new Centre for Applied Artificial Intelligence occupy the main floor.
Go down a floor and our state-of-the-art biology, chemistry and environmental science labs allow for collaborative research.
Up on the second level, you'll find the Office for Extension and Culture, the Centre for Chinese Studies, our Public Health Simulation Lab and the Design Thinking Space. While we continue to build and develop our Institute for Psychological Research and Services, Mercy Counselling has rented space on the second floor and provides another source of mental health care for our campus.