Go back to news
New COVID-19 Restrictions
Posted on: May 4, 2021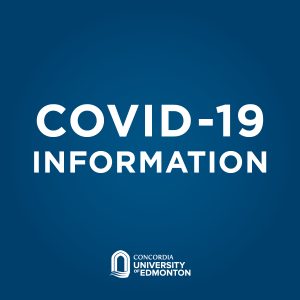 Dear CUE Community,
At 6pm tonight Premier Kenney announced a series of enhanced public health restrictions aimed at addressing the spike in COVID-19 cases in Alberta. Part of his announcement was that Post-Secondary Institutions will move online for the next 3 weeks.
Fortunately, most of our spring courses are already online. Those that are in-person will move online immediately, and students can expect to hear from their instructors regarding specific arrangements as soon as they are able. I ask for your patience as we make this sudden and unexpected change in our course delivery method. 
We are already following the other restrictions outlined, including working at home wherever possible and wearing masks in indoor spaces when an on-campus presence is required. If I receive further relevant details I will be sure to keep our community informed of them. 
Once again, we find ourselves in the midst of an abrupt change. I am thinking of all of you who will experience the resulting disruption and additional work and anxiety that these changes will bring, and am grateful in advance for your forbearance. Those who feel the need to access support services, including mental health supports, can do so through
Student Life and Learning
.
It is the case that we need to stop the spike of COVID-19 cases in Alberta. I ask that you attend to the new restrictions, and as soon as it is your turn, get vaccinated. This is the quickest path to resuming our normal lives.
Best,
Tim Loreman, PhD.
President and Vice-Chancellor.