Go back to news
New COVID-19 measures at CUE
Posted on: Mar 15, 2020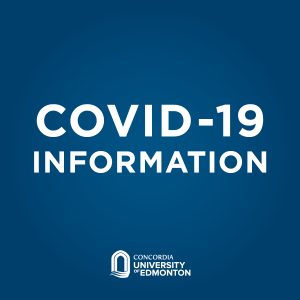 Dear CUE Community,
This afternoon Alberta Premier Jason Kenney and Alberta's Chief Medical Officer, Dr. Deena Hinshaw, announced that in-person classes at all Alberta post-secondary institutions will be cancelled indefinetly as a result of the COVID-19 situation. Following this announcement I participated in a conference call with the Minister of Advanced Education, Dr. Demetrios Nicolaides, and Alberta's 26 Presidents of Alberta's post-secondary institutions.
Based on that conversation Concordia University of Edmonton Concordia will continue to remain at Response Level 2, implementing the following measures, effective immediately:
We remain committed to helping all of our students successfully complete their courses and programs.
Our plan to move to online teaching, effective tomorrow morning, remains in place.
We are now not moving forward with any on-campus classes. The few classes that we had intended to continue to teach on-campus will now continue in an alternative format, by distance. Students should not come to campus for classes.
Final exams, where required, will be conducted online.
We will plan for our spring and summer course offerings to be delivered online.
Campus remains open. Students can expect that on-campus support services will remain available. CUE staff should report for work as usual. Work from home is permitted where approved by supervisors.
Students without access to computers or internet may attend campus and work in one of our computer labs or on their own laptop. We will do our best to provide social distance between computers, and we will ensure adequate sanitization measures are implemented.
Our Student Residences remain open.
Daycares have been closed as part of the announcement. Employees who are now scrambling for child-care can assume that CUE will be flexible in the coming days as they find alternatives. If you work at CUE and need to stay home tomorrow to care for your children, please do so and contact your supervisor. Students who require flexibility with respect to child-care should contact your instructors who will make accommodations.
Our International students may be concerned about the status of their visas. The Ministry of Advanced Education is working with Canada's Ministry of Immigration, Refugees, and Citizenship to explore solutions. More information will be forthcoming.
Education students who were to begin Field Experience tomorrow should not attend their placement or CUE. More information will be provided to you by our Dean of Education as it becomes available over the next few days.
Other CUE students involved in field placements and internships will be provided with information as it comes to hand.
These continue to be challenging times, and the situation is ever-changing. Safety is our main priority, and these measures will enhance that. Doubtless I will have more information for you in the coming days. In the meantime, thank you for your patience and understanding.
Sincerely,
Tim Loreman, PhD.
President and Vice Chancellor.