Go back to news
New Art in the Library: Rereading Room
Posted on: Feb 28, 2020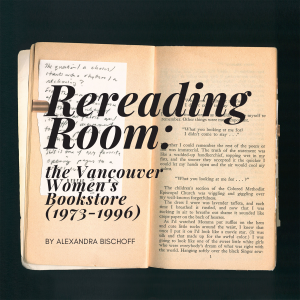 This exhibit features scanned images from Alexandra Bischoff's Rereading Room the Vancouver Women's Bookstore: 1973-1996 exhibit.
Where: CUE Library, Main Floor
When: Now until April 16, 2020
Artist: Alexandra Bischoff
"The Vancouver Women's Bookstore opened in the summer of 1973. We've been told it set up shop in an old Victorian house somewhere on Richards Street. Rent was cheap—cheap enough that the Bookstore's owners could afford to make donations to local women's centres and other projects they cared about. We heard they lent Ferron (do you know her?) a grand to help her record her first album. From the street you could see the store's bookshelves, then behind that, up a couple of steps, was a raised area where there was a desk and a few couches. There was coffee and a small library. [. . .] The Bookstore was a setting where individual experience could be elaborated, made material, through social life. The books provided a common language; the shelves, a common space for conversation—between generations, continents."  —Vincent Tao. To learn more please visit:  https://www.alexandrabischoff.com/rereading-room-the-vancouver-womens-bookstore-1973-1996.html
Image credit:
Alexandra Bischoff, Rereading Room: The Vancouver Women's Bookstore (1973-1996), 2016-18, with annotations inserted into Maya Angelou, "I Know Why the Caged Bird Sings" (New York: Bantam Books, published with Random House, Inc., 1970). Collection of the Morris and Helen Belkin Art Gallery, University of British Columbia, purchased with support from the Canada Council for the Arts and the Morris and Helen Belkin Foundation, 2018. [Edited].