Go back to news
New Art Exhibit in the Library: In Dreams Awake
Posted on: Feb 7, 2018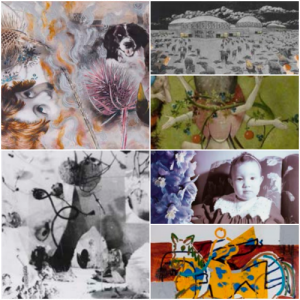 Curated by the the Art Gallery of Alberta and The Alberta Foundation for the Arts Travelling Exhibition Program, In Dreams Awake will be up in the library's gallery space until Wednesday, February 21.
"The exhibition In Dreams Awake, featuring art works drawn from the collection of the Alberta Foundation for the Arts, is inspired by the triptych "The Garden of Earthly Delights" created by the early Renaissance artist Hieronymus Bosch. Exploring elements, themes, and artistic styles which are expressed within or can be linked to this gem of Madrid's Prado Museum, this eclectic exhibition examines the 'earthly garden' as investigated by Alberta's artists and explores the influence of the past on contemporary artistic expression." – Shane Golby, Manager/Curator, AFA Travelling Exhibition Program
To learn more about this collection, see the AGA's In Dreams Awake brochure.